The Nicolet/Paratronics Z80 NICE emulator
manual, brochure, tech info
and Bob Grieb's Z80 ICE
---
The Nicolet/Paratronics Z80 NICE

The brochure:








Dig that Lear Siegler ADM3A terminal in the background!

Here's the manual (in pdf format)
Many thanks to Herb Johnson for scanning the manual. He has one for sale

I met Bob Grieb via the NJ computer museum located at the Infoage science center (formerly Camp Evans)
where we rejuvinated several Z80 projects, such as exploring the Z80 emulator.
Bob reverse engineered the Nicolet Z80 NICE emulator, discovering several undocumented things such as
It MUST replace the socketed CPU.
The NICE ICE (In Circuit Emulator) contains its own internal CPU
from which it may disconnect CPU signals (such as IRQ)
or assert signals (for refresh, memory access).
It CANNOT be clipped on over the CPU like a logic analyzer.

There's a minimum clock speed of approximately 500 kHz or it works erratically
(seen as inconsistent memory dumps).
The bottom of the Nicolet Z80 NICE has machine SOCKETS on the bottom in a 40 pin .6" DIP pattern
so there are 2 ways to connect the box

via the pin-to-pin DIP-header so the box plugs directly into the CPU socket
via the pin-to-pin ribbon cable, which uses 2 different connectors
so the left/right sides are swapped correctly (pin 1 is clearly marked on the connectors).

in the presentation case


the bare PCB showing the 6 chips


the PCB bottom showing the machine pin connectors

DOCUMENTATION:

---
Bob Grieb's Tauntek Z80 ICE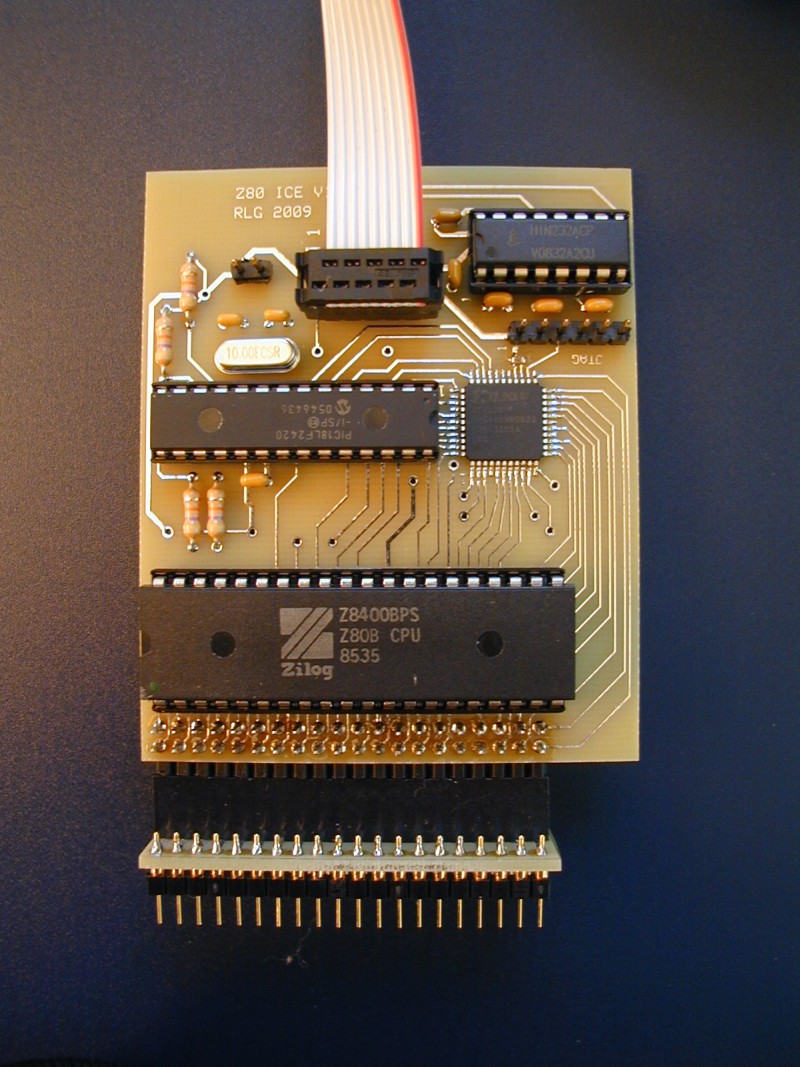 Bob Grieb designed a compatible Z80 In Circuit Emulator with improved performance and additional features.

Faster performance with fewer parts

6 MHz Z80B (socketed so different parts can be used:
CMOS or NMOS, Zilog, SGS or Mostek)
socketed PIC18LF2420 microcontroller (upgradeable!)
Xilinx XC9536 CPLD
socketed HIN232 (MAX232) for true RS232 signalling

Lower power consumption: around 200 mA (under 100 mA with a CMOS Z80)
whereas the NICE draws 500 mA.
Self-calibrates to the external clock (The original Nicolet Z80 NICE requires a minimum clock speed)
Serial baud rate is automatically detected
Controlled by generic terminal program running on any PC/laptop with a legacy serial port
(or via USB with additional converter/adapter)
New commands:
CF - Measure clock frequency
CS - form 16-bit checksum of memory block
E - Examine and display a single memory location, for scope loops
MD - Try to detect RAM and EPROM in target memory space
P - Put data into a single memory location, for scope loops
W - Write out memory as Intel Hex
DN, EN - separate hardware control of NMI input
? - display help screen with command list
DOCUMENTATION: